---
Springing To Life: Monastery Practice Period
April 5 - May 29, 2022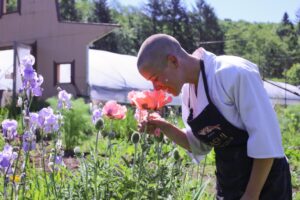 Spring at Great Vow Zen Monastery is beautiful. The fruit tree blossoms open towards the heavens, the forest is a buzz with new insects, birds and tree frogs all waking up from their winter slumber – as the sword ferns unfurl and daffodils, poppies, irises and tulips paint the world.
With the natural world springing to life with such exubrance and force, residency at the monastery inclines towards the out of doors. We dedicate more of our daily practice to the care and maintenance of our garden and grounds. This includes maintaining our trails and caring for native trees in our forest to planting veggies in our garden.
During this practice period we will also deepen our Zazen practice, rising before dawn and sitting for about 2 hours each morning and 2 hours each evening.
This is a time to dive into community life and explore the Monastic container as it springs to life with the changing seasons. Let the energy of spring and the natural world transform you and enliven your practice.
Please plan on arriving on the first day of this practice period, April 5th.