Earth and Sky Sesshin: A Six Day Meditation Retreat Online and Outdoors
With Jan Chozen Bays, Roshi, Danney Soten Lynch and Sara Shinei Monial
August 17 - 23, 2020
Earth body, sky heart. Rooted and flowing. Luminous and open. We are made of earth and sky, of wind breath and rain song, our lives woven from the teachings of the natural world.
This retreat is an opportunity to re-connect and relax into the wild, ancient, wisdom of the Grasses, Trees and Great Earth. We will spend time learning from each of the five elements, as they manifest in our experience. Deeply exploring and releasing into our interconnection with the living, breathing body of the Earth, waters, energizing air, bright fiery sun, and vast spacious sky.
It is our intention to offer the supportive structure to allow you to do a week long meditation retreat at home. You can participate to whatever degree your life allows. Consider the possibility to design your own retreat. Do a work/family sesshin. Take one day this week and make it a retreat day!
This retreat will take place through the zoom app. You will receive a link to the retreat once you register. We will have a meeting with all those registered at 7PM Monday August 17 to check in about the logistics, details and answer any practical questions about the retreat format.
Doing a retreat at home can be empowering, take up the practice in your own home and know the peace and clarity of mind in your own dwelling place! To support doing home retreat we recommend doing the following:
1. Reflect on your intention
2. Create a sacred space with a simple altar and meditation supports in a clean room that allows for calm/peace of mind
3. Commit to a schedule, we have a schedule posted below. We ask that you commit to at least 4 hours of meditation a day. Part-time attendance is welcome. Join for a day, the weekend or the whole week. Please let us know the dates you plan to attend.
4. Give up or reduce media, phone and extra computer use for the duration of the retreat
5. Keep the practice going during the "breaks" by engaging with Mindful Eating during meals and choosing simple work (gardening, cleaning, etc.), body practice/exercise (walking, yoga, qi gong) or creative projects that support your meditation practice/intention.
6. Consider being in silence for the whole retreat or practicing silence for specific periods during the day.
7. If you live with others, communicate with them what your intention is for this week of practice and ask them to support you
Approximate Schedule
Monday Night
7:00 Orientation
8:00 Zazen/Opening Talk
Tuesday – Saturday
5:00 Zazen
7:00 Chanting Service
7:30 Breakfast
9:00 Work Practice
11:30 Zazen
12:50 Chanting Service
1:00 Lunch
3:30 Movement
4:00 Teisho (Dharma Talk)
5:00 Zazen/Group Sanzen
5:50 Chanting Service
6:00 Dinner
7:30 Zazen
9:20 Formal Tea/Closing Chant
Leaders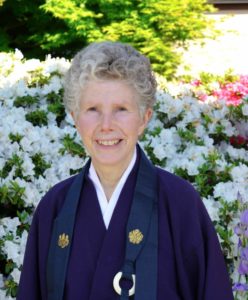 Jan Chozen Bays, Roshi
Jan Chozen Bays, Roshi has studied and practiced Zen Buddhism since 1973. She received Jukai (lay precepts) in 1975 and Tokudo, Priest's Ordination, in 1979 from Taizan Maezumi, Roshi. From 1978 to 1983 she lived at Zen Center of Los Angeles, studying with Maezumi, Roshi and directing the Zen Center's non-profit Medical Clinic. She finished formal koan study in 1983 and she was given Dharma transmission (authorization to teach) that same year. Following the death of Maezumi, Roshi in 1995 she has continued her training with Shodo Harada, Roshi, a Rinzai Zen teacher and the abbot of Sogen-ji monastery in…
Learn more about Jan Chozen Bays, Roshi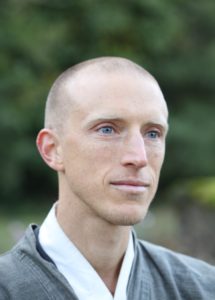 Danney Soten Lynch
Danney Soten Lynch is a Dharma Holder and ordained Zen priest who currently lives and practices at Great Vow Zen Monastery, where he has resided since 2010. Soten has been playing and enjoying music all of his life. He serves as the Music Director at Great Vow, breathing new life into the liturgy, chants and marimba band. Soten also serves as Work Leader for the monastery. He is an avid runner and outdoor enthusiast, who leads wilderness sesshins every summer in the Pacific Northwest.
Learn more about Danney Soten Lynch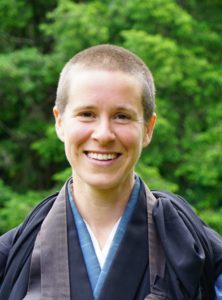 Sara Shinei Monial
Sara Shinei Monial is an ordained monastic Great Vow. She has been practicing meditation intensively since 2007, and has practiced closely with various teachers including Jan Chozen Bays, Roshi, Hogen Bays, Roshi, and Satya Vayu. Shinei has a BA in Education, but left the field 11 years ago to pursue full-time spiritual practice. She is one of the founders of Touching Earth Sangha in Portland, whose intention is simple living in harmony with the natural world. Shinei also teaches yoga and practices long distance running.
Learn more about Sara Shinei Monial