Autumn Zazenkai: A Day-Long Online Meditation Retreat
With Jogen Salzberg, Sensei
October 10, 2020
Zazen is going right into the Ocean of Awareness, manifesting the body of all Buddhas. The natural luminosity of mind suddenly reveals itself and the original light is everywhere. -Keizan Zenji
This is a day of zen meditation practice together, seated and active, connecting with our inner space, presence and vision.
 Zoom link will be sent a couple of days before the retreat begins.
Schedule:
8:00 zazen
10:00 work practice
11:30 zazen
12:30 lunch
1:30 zazen with dharma talk
3:30 ceremony of ethical living and ending
Leader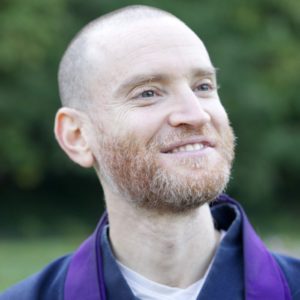 Jogen Salzberg, Sensei
Jogen Salzberg, Sensei has been practicing Zen since 1997, entered monastic training at Great Vow in 2003 and received Dharma Transmission from Chozen Bays, Roshi and Hogen Bays, Roshi in 2017. Since 2011, he has been a student of Dzogchen teacher Keith Dowman. Jogen leads a weekly meditation gathering at Heart of Wisdom, and DJ's for the live-blended listening meditation event Beyond the Sound.
Learn more about Jogen Salzberg, Sensei