Wilderness Backpacking sesshin: a weeklong meditation retreat
With Sara Shinei Monial and Danney Soten Lynch
August 2 - 9, 2020
This Sesshin will take place in the wilderness. Space is limited and reserved only for those who have both previous sesshin and backpacking experience.
Resting inside the forest we can immerse ourselves in its ancient timeless wisdom and allow our hearts to be touched by its wild beauty. Silent contemplation in the natural world can reveal to us our most basic clarity, the natural awake mind before thought.
This is also a time to leave behind the safety of the comfortable homes we usually inhabit and expose ourselves to the earth, sky, rains, winds, insects and animals. We will continue to hike and sit zazen regardless of weather conditions and to practice with whatever vulnerability, fear, or aversion arises. We will not seek difficult situations, but they might find us!
We will meet in the Wilderness, hike in and spend five days together in silent meditation, supplemented with guided qigong, hikes, ceremony and song. Breakfast and dinner will be provided every day, but we ask that you prepare your own lunches and snacks.
Space is limited, please contact Soten, at soten@zendust.org, to rsvp or to ask any questions
Leaders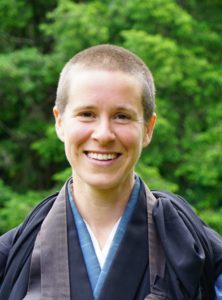 Sara Shinei Monial
Sara Shinei Monial is an ordained monastic Great Vow. She has been practicing meditation intensively since 2007, and has practiced closely with various teachers including Jan Chozen Bays, Roshi, Hogen Bays, Roshi, and Satya Vayu. Shinei has a BA in Education, but left the field 11 years ago to pursue full-time spiritual practice. She is one of the founders of Touching Earth Sangha in Portland, whose intention is simple living in harmony with the natural world. Shinei also teaches yoga and practices long distance running.
Learn more about Sara Shinei Monial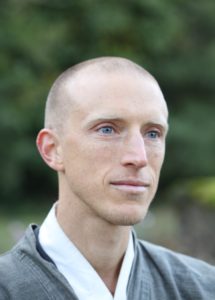 Danney Soten Lynch
Danney Soten Lynch is a Dharma Holder and ordained Zen priest who currently lives and practices at Great Vow Zen Monastery, where he has resided since 2010. Soten has been playing and enjoying music all of his life. He serves as the Music Director at Great Vow, breathing new life into the liturgy, chants and marimba band. Soten also serves as Work Leader for the monastery. He is an avid runner and outdoor enthusiast, who leads wilderness sesshins every summer in the Pacific Northwest.
Learn more about Danney Soten Lynch