October Sesshin ~ The Ancient Way to Sanity in an Insane World: 10-day Online Retreat
With Hogen Bays, Roshi and Patrick Bansho Green
October 15 - 25, 2020
Human society has always been filled with the potential for chaos. Most times we can retreat into nature to restore ourselves with peace and calm. But where can we retreat when nature herself is on fire? The Ancient Way to peace is always available but is not always easy to walk. Come join us to practice and walk the Ancient Way of Sanity. Part time attendance is fine.
Meditation takes time, and deep meditation, which leads to insight, takes more time. This 10-day intensive retreat offers the opportunity to discover places of deep stillness and wonder.
It is our intention to offer the supportive structure to allow you to do a week long meditation retreat at home. You can participate to whatever degree your life allows. Consider the possibility to design your own retreat. Do a work/family sesshin. Take one day this week and make it a retreat day!
This retreat will take place through the zoom app. You will receive a link to the retreat once you register.
Doing a retreat at home can be empowering, take up the practice in your own home and know the peace and clarity of mind in your own dwelling place! To support doing home retreat we recommend doing the following:
1. Reflect on your intention
2. Create a sacred space with a simple altar and meditation supports in a clean room that allows for calm/peace of mind
3. Commit to a schedule, we have a schedule posted below. We ask that you commit to at least 4 hours of meditation a day. Part-time attendance is welcome. Join for a day, the weekend or the whole week. Please let us know the dates you plan to attend.
4. Give up or reduce media, phone and extra computer use for the duration of the retreat
5. Keep the practice going during the "breaks" by engaging with Mindful Eating during meals and choosing simple work (gardening, cleaning, etc.), body practice/exercise (walking, yoga, qi gong) or creative projects that support your meditation practice/intention.
6. Consider being in silence for the whole retreat or practicing silence for specific periods during the day.
7. If you live with others, communicate with them what your intention is for this week of practice and ask them to support you
Approximate Daily  Schedule
Thursday Night
7:30 Introductions/Zazen/Opening Talk
9:20 Closing Chant
Friday 10/16 – Saturday 10/24
4:30 Zazen
6:20 Chanting Service
7:00 Breakfast
8:30 Work Practice
11:00 Zazen
12:50 Chanting Service
1:00 Lunch
3:00 Movement
3:30 Teisho (Dharma Talk)
4:30 Zazen
5:20 Chanting Service
5:30 Dinner
7:00 Zazen
9:30 Formal Tea/Closing Chant/Zazen
Sunday Morning 10/25
6:00 Zazen/Closing Remarks
7:00 Closing Circle
10:00 Sunday Program Chanting Service/Zazen
11:30 Dharma Talk
Leaders
Hogen Bays, Roshi
Hogen Bays, Roshi began practicing in 1968 with Philip Kapleau, Roshi and was part of the residential staff at Zen Center of Rochester in Rochester, New York until 1975. He lived and trained at Zen Center of Los Angeles under the direction of Taizan Maezumi, Roshi from 1980-1984. In 1990 he took priest's ordination with Maezumi, Roshi. After advice and consultation with Harada, Roshi and other Zen teachers, in 2000 he received Dharma Transmission from Chozen, Roshi. Since 1990 Hogen has continued his Zen studies with Rinzai Zen teacher Shodo Harada, Roshi, abbot of Sogen-ji monastery in Japan and…
Learn more about Hogen Bays, Roshi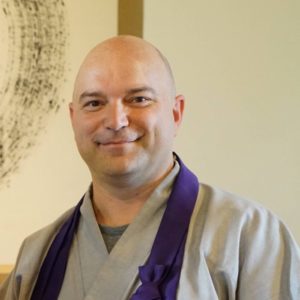 Patrick Bansho Green
Patrick Bansho Green has been practicing Zen since 2004 and was made a Dharma Holder in 2015. From 2006-2012, he served as ZCO President and is the current Administrator. For twenty years, he worked nationally with labor unions on creative organizational change strategies.
Learn more about Patrick Bansho Green