September Wilderness Backpacking sesshin: a weeklong meditation retreat
With Sara Shinei Monial and Danney Soten Lynch
September 20 - 27, 2020
This retreat will be held in the Mt. Hood Wilderness, Oregon. Previous meditation retreat and backpacking experience is highly recommended.
Immerse yourself in the silent wisdom of the forest, mountains, and sky. Allow these wild places to awaken within you and inform how you experience and embody this life. This retreat is an invitation to dive deep into the present moment experience, supported by the spacious clarity, enduring stability, and flowing life energy of the wilderness.
This is an intensive meditation retreat. We will set up a base camp and follow a structured daily schedule. Each day will consist of about seven hours of seated meditation, a period of meditative movement, and guided hiking (or optional trail running). One night hike and some solo meditation will also be incorporated into schedule.
Each person will be expected to carry their own gear, plus additional communal items. A required packing list will be provided and all food is included in the retreat fee.
Space is limited, please contact Soten Lynch, at 503-308-3139, to RSVP or to ask any questions. Cost: $300 ($250 members)
Leaders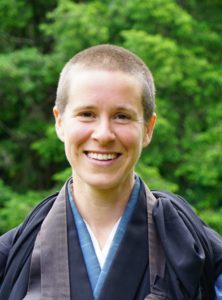 Sara Shinei Monial
Sara Shinei Monial is an ordained monastic Great Vow. She has been practicing meditation intensively since 2007, and has practiced closely with various teachers including Jan Chozen Bays, Roshi, Hogen Bays, Roshi, and Satya Vayu. Shinei has a BA in Education, but left the field 11 years ago to pursue full-time spiritual practice. She is one of the founders of Touching Earth Sangha in Portland, whose intention is simple living in harmony with the natural world. Shinei also teaches yoga and practices long distance running.
Learn more about Sara Shinei Monial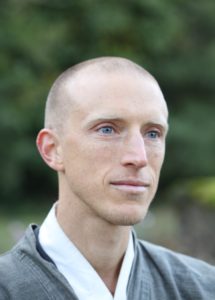 Danney Soten Lynch
Danney Soten Lynch is a Dharma Holder and ordained Zen priest who currently lives and practices at Great Vow Zen Monastery, where he has resided since 2010. Soten has been playing and enjoying music all of his life. He serves as the Music Director at Great Vow, breathing new life into the liturgy, chants and marimba band. Soten also serves as Work Leader for the monastery. He is an avid runner and outdoor enthusiast, who leads wilderness sesshins every summer in the Pacific Northwest.
Learn more about Danney Soten Lynch